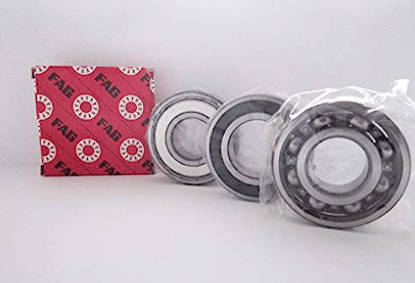 FAG Bearings has a rich history of technological breakthroughs that have pushed the boundaries of bearing performance and reliability. This article explores the innovative spirit of FAG Bearings and highlights some of the key technological advancements that have cemented its position as a leader in the industry.
Precision Engineering and Advanced Manufacturing Techniques:
FAG Bearings' commitment to precision engineering has been a driving force behind its technological breakthroughs. The company has continuously pushed the limits of manufacturing techniques, employing advanced processes such as precision grinding, heat treatment, and surface engineering to enhance the quality and performance of its bearings.
Material Science and Optimization:
FAG Bearings has embraced the advancements in material science to develop bearings that meet the demanding requirements of modern applications. Through careful material selection and optimization, the company has been able to enhance the strength, durability, and corrosion resistance of its bearings, allowing them to operate in challenging environments.
Innovative Bearing Designs:
FAG Bearings has been at the forefront of innovative bearing design. The company has introduced various design enhancements such as optimized internal geometries, improved seal systems, and specialized lubrication mechanisms. These advancements have led to increased load-carrying capacity, reduced friction, and enhanced reliability of FAG Bearings' products.
Integrated Sensor Technology:
FAG Bearings has embraced the integration of sensor technology within its bearings. By incorporating sensors for temperature, vibration, and load monitoring, the company enables real-time condition monitoring and predictive maintenance. This proactive approach helps prevent unexpected failures, prolong bearing life, and optimize equipment performance.
Digitalization and Industry 4.0:
FAG Bearings has embraced digitalization and leveraged Industry 4.0 technologies to enhance its product offerings. By incorporating smart features such as wireless connectivity, data analytics, and remote monitoring capabilities, the company enables intelligent bearing systems that optimize performance, enable predictive maintenance, and enhance overall operational efficiency.
Sustainability and Energy Efficiency:
FAG Bearings recognizes the importance of sustainability and energy efficiency in today's world. The company has invested in research and development to develop bearings that minimize energy consumption and reduce environmental impact. Through innovative lubrication solutions, low-friction materials, and optimized designs, FAG Bearings contributes to a greener and more sustainable future.
Collaborative Partnerships:
FAG Bearings actively collaborates with industry partners, research institutions, and customers to drive technological breakthroughs. These collaborative efforts foster knowledge sharing, exchange of ideas, and enable the development of cutting-edge solutions that address the evolving needs of industries.
Continuous Innovation and Future Outlook:
FAG Bearings commitment to continuous innovation ensures that it remains at the forefront of technological advancements. The company continues to invest in research and development, exploring emerging technologies, and staying abreast of industry trends. This commitment positions FAG Bearings to address the challenges and opportunities of the future, driving further technological breakthroughs in the bearing industry.
Conclusion:
FAG Bearings relentless pursuit of technological breakthroughs has propelled it to the forefront of the bearing industry. Through precision engineering, advanced manufacturing techniques, innovative designs, and the integration of smart technologies, the company has consistently pushed the boundaries of performance, reliability, and sustainability. As FAG Bearings continues to explore the frontiers of innovation, it remains poised to shape the future of the industry, delivering advanced bearing solutions that meet the evolving needs of industries worldwide.
We support more information about Bearings. you can visit http://www.cmtgbearing.com. or email us info@cmtgbearing.com.